This cell is not so different from the one on Baal. Hard sleeping places, no window. But very different from the one on Baal. Not a marine's cell, a dungeon cell. We five daughter protectors are housed here. Locked up by the Aquatics. I never thought I'd see them again. That psychopathic colonel of theirs can't be far behind. Sometimes I think the God Emperor has sent us Bloodfist to test whether our faith in the Daughter Sanguinius is strong enough.
He is once again forcing us to fight against our peers, against the deluded who cannot or will not see how important she is.
Outside I hear massive impacts, artillery fire? A diversion? Yes, that's what it will be. For a short time later, nimble Eldar warriors are at our cell door. In their singsong language they tell us to get away from the door. A bang and the lock is through. Immediately we move outside. The Eldar lead us into a room down the corridor. There are two dead soldiers lying in front of the door, which has also been blown. The Munitorum, and it houses our sacred equipment. The God-Emperor guides and protects! We put each other's armour of war back on and check our weapons. Meanwhile, our allied warriors cover the passage. When all brothers are ready, the blessing of armour and weapon takes place and we are ready. Let our green helpers quietly stagger back and forth on their skinny legs while Azrael says the sacred litanies, which we repeat. Shall one of us die later from a weapon malfunction? Or the armour refuse service because the spirit was not sufficiently friendly? Absolutely not! It only takes a few minutes, too.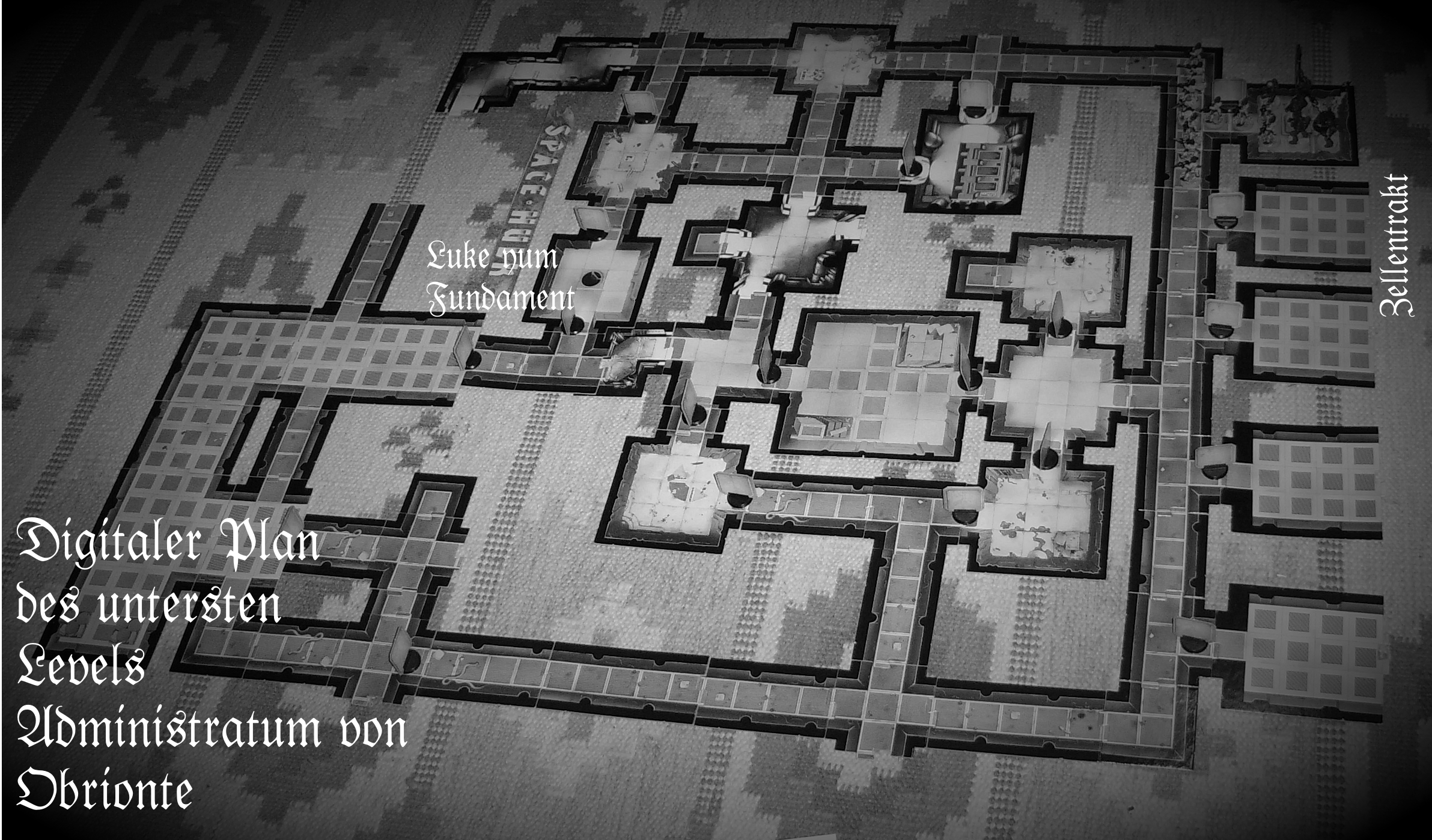 Then we head out. The Eldar task team has a good overview of the situation and scouts posted at the corners of the corridors. The task was to rescue the lady and escape. So we would try to go around the enemies.
We run down the corridor, the Eldar seem to know where she is. They open a second cell door with a charge, we rush in, secure.
Dame Fayak is lying on her cot. She does not look well but seems to be able to walk herself.
We cover her as we make our way back into the corridor. The Eldar securing the direction we came from are already drawing fire.
So in the other direction. The lady was very woozy but seemed otherwise unharmed. She accepted the laspistol handed to her with a grateful nod. Then the first opponents arrive, young recruits of the Imperial Army. The poor, misguided Aquarians fall under the bolter fire of my comrades. The Eldar do their part and I dust a few bodies into subatomic particles myself. "Tallarn's Wind", my ancient melter pistol, does its job. Screams of panic and short battle commands alternate among the Aquatics. Damian is wounded, his left leg servo failing. We have to support him.
We advance further, right into the middle of a storeroom full of soldiers. I cook two of them against a wall, my brothers kill the rest, one manages to escape. It's not pretty, the look in his eyes. He is also a human being…
We pause for a moment as the lady is no longer well. Is she feeling the losses the Eldar guards are suffering, or is it the drugs she had surely been given?
The enemies are steadily increasing in number; according to the Eldar, we are close to the escape tunnel that should lead into the ancient sewers under the building. By now the wailing of sirens has died down, but we hear the short, terse orders and the sound of dozens of heavy boots from everywhere.
After our short rest, we resume our advance. Ahead of us lies a really tough spot. Four corridors meet: a veritable death cross.
The Eldar are still covering the southern approach to this spot, but we know they can't for long. Two of them meanwhile take the Lady between them. She can barely walk. It was just too much of an effort.
We fight against soldiers streaming out of the north, west and east passages. In their behaviour they almost resemble whipped-up cultists of the dark gods.
One of the Eldar, before locking the south gate behind him, shouts to Fayak and her helpers something like "Straight ahead and then left, that's the exit!" But straight on, there are more soldiers waiting.
It's going to be hand-to-hand combat. We punch, hack, bolt and cook our way through the enemy.
Damian, wounded and immobilised, insists on covering our backs, we leave him behind, hearing his bolter fire, mixed with calls to Sanguinius, for quite a while.
Towards the saving hatch!
The soldiers are now partly backing away from us, partly being kicked to the ground by their own rushing in troops as they (rightly) shy away from close combat with us.
My Melter pistol blisters the glove of my armour, it is so hot.
Then a shot hits me right in the eagle.
The energy clutch underneath fails and I am paralysed on the left side. Ezekiel holds me and supports me.
Calidus is also disabled by now, supported by Azrael, who is also complaining of a failure of his armour motivators. It was just too much laser fire at too close a range. Our armour was built for field use, not house fighting! The Eldar in their light armour are worse off, of course, but that still doesn't stop them from charging.
Finally we come to the room where the saving hatch should be. We rush in. I'm cooking for all I'm worth. For minutes I have been ignoring the charge indicator and heat warnings on the display of the hallowed weapon.
Briefly, we have the room secured. Calidus and Azrael enter right behind us. Ezekiel takes me to the shaft and pushes me in. Then he jumps in after me.
No! We have to get the lady… First we fall, then the tunnel tilts a little. A kind of chute is formed. My armour, like Ezekiel's, sparks against the masonry and the crampon.
Falling, I briefly see Calidus above the hole, firing as he goes. The reflections of light from the igniting bolter charges light up the tunnel. Then he is gone again. The Eldar and Lady fall and now slide down the tunnel after us. She is not wearing proper armour! A crampon hits her in the head, she is unconscious!
Ezekiel and I hit hard. It rips the shoulder armour of my armour. Quickly we move aside. One of the Eldar throws himself in front of the Lady's lifeless body, breaking her fall. All before Ezekiel has a chance to even try to catch her.
A heroic last act in the Eldar's existence thus preserves the daughter of Sanguinius.
We look around for a moment. The adamantium base of the Administratum building has seemingly penetrated ancient catacombs. The second Eldar picks himself up and throws Fayak over his shoulder.
Lights, left behind by the Eldar when they entered, point the way towards the exit…
Deutsch:
Diese Zelle ist nicht so anders als die auf Baal. Harte Schlafstellen, kein Fenster. Doch ganz anders als auf Baal. Keine Zelle eines Marines, eine Kerkerzelle. Wir fünf Schützer der Tochter sind hier untergebracht. Eingesperrt von den Aquarianern. Dass man die noch einmal wieder sieht. Da kann auch der psychopathische Oberst von ihnen nicht weit sein. Manchmal glaube ich, dass der Gottkaiser uns Bloodfist gesendet hat, um zu prüfen, ob unser Glauben an die Tochter Sanguinius stark genug ist.
Er zwingt uns einmal mehr gegen unsere Gleichen zu kämpfen, gegen die Verblendeten, die nicht erkennen können oder wollen, wie wichtig sie ist.
Draußen höre ich massive Einschläge, Artilleriefeuer? Ein Ablenkungsmanöver? Ja, das wird es sein. Denn schon kurze Zeit später sind flinke Eldarkrieger vor unserer Zellentür. In ihrer Sprache voller Singsang sagen sie, wir sollen von der Tür weg. Ein Knall und das Schloss ist durch. Sofort bewegen wir uns nach draußen. Die Eldar führen uns in einen Raum den Gang herunter. Es liegen zwei tote Soldaten vor der ebenfalls gesprengten Tür. Das Munitorum, und es beherbergt unsere geheiligte Ausrüstung. Der Gottkaiser leitet und schützt! Wir legen uns gegenseitig die Harnische des Krieges wieder an und prüfen unsere Waffen. Unsere verbündeten Krieger decken derweil den Gang. Als alle Brüder fertig sind, erfolgt die Segnung von Rüstung und Waffe und wir sind bereit. Sollen unsere grünen Helfer ruhig auf ihren dünnen Beinen hin und her stacksen, während Azrael die heiligen Litaneien sagt, die wir wiederholen. Soll einer von uns später durch einen Waffenfehler sterben? Oder die Rüstung den Dienst verweigern, weil der Geist nicht ausreichend freundlich gestimmt wurde? Auf keinen Fall! Es dauert auch nur wenige Minuten.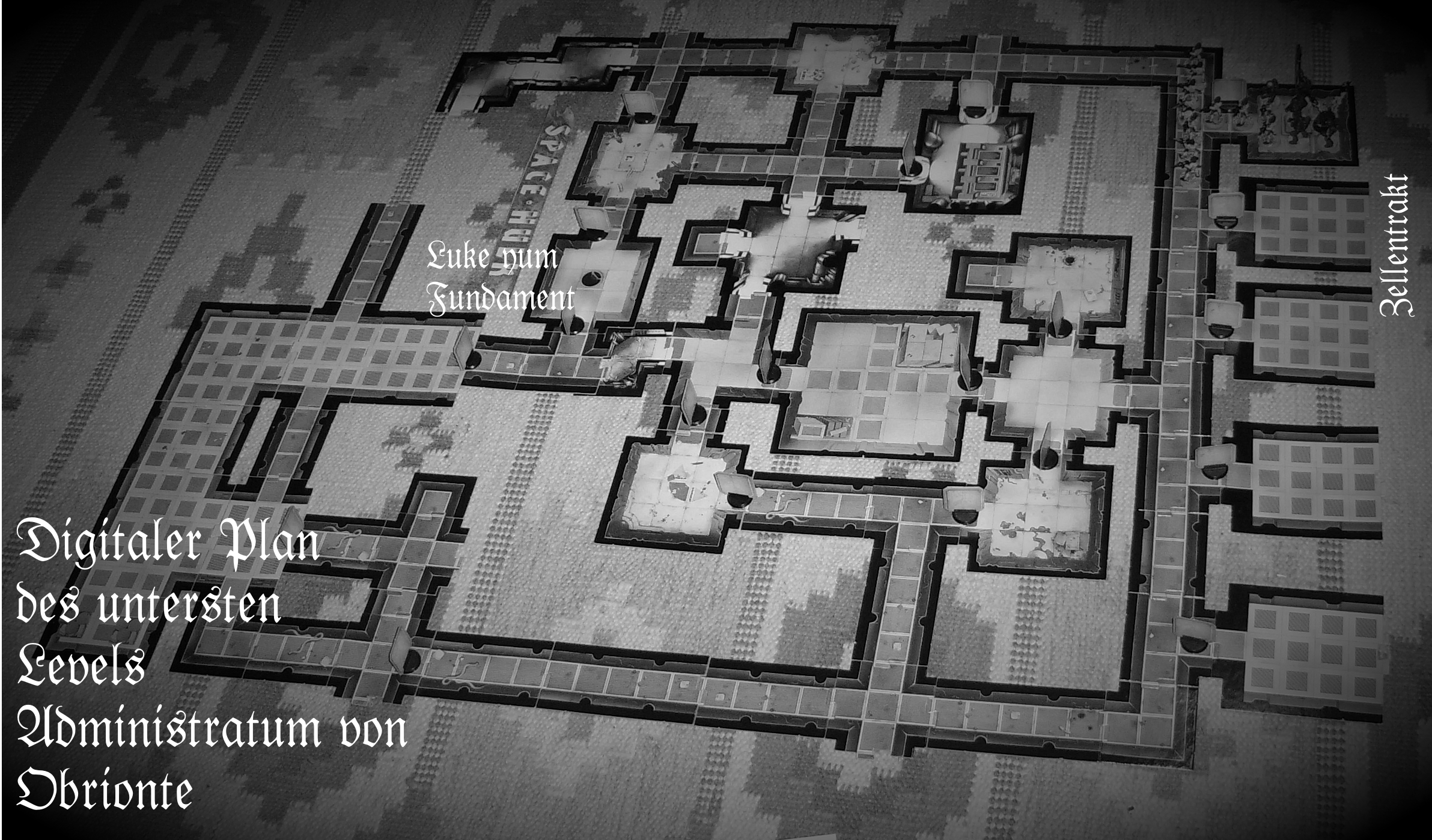 Dann begeben wir uns hinaus. Das Einsatzteam der Eldar hat einen guten Überblick über die Situation und Späher an den Ecken der Gänge postiert. Die Aufgabe war es, die Dame zu retten und zu entkommen. Wir würden also versuchen, die Feinde zu umgehen.
Wir rennen den Gang hinunter, die Eldar scheinen zu wissen, wo sie liegt. Sie öffnen mit einer Ladung eine zweite Zellentür, wir stürmen hinein, sichern.
Dame Fayak liegt auf ihrer Pritsche. Sie sieht nicht gut aus, scheint aber selbst laufen zu können.
Wir decken sie, als wir uns zurück in den Gang begeben. Die Eldar, die die Richtung aus der wir kamen sichern, ziehen bereits Feuer.
Also in die andere Richtung. Die Dame war sehr benebelt, schien aber sonst unversehrt. Sie nahm die ihr gereichte Laspistole mit einem dankbaren Nicken an. Dann kommen die ersten Gegner, junge Rekruten der Imperialen Armee. Die armen, fehlgeleiteten Aquarianer fallen unter dem Bolterfeuer meiner Kameraden. Die Eldar leisten ihren Teil und ich zerstaube selbst einige Körper in subatomare Partikel. "Tallarns Wind", meine antike Melterpistole, tut ihren Dienst. Panikgeschrei und kurze Kampfbefehle wechseln sich bei den Aquarianern ab. Damian wird verwundet, sein linker Beinservo setzt aus. Wir müssen ihn stützen.
Wir rücken weiter vor, mitten hinein in einen Lagerraum voller Soldaten. Ich koche zwei von ihnen an eine Wand, meine Brüder erlegen den Rest, einer kann fliehen. Nicht schön, der Blick in seinen Augen. Er ist doch auch ein Mensch…
Wir halten kurz inne, da es der Lady nicht mehr gut geht. Spürt sie die Verluste, die die Eldarwachen erleiden, oder sind es die Drogen, die man ihr sicherlich verabreicht hatte?
Die Feinde werden stetig mehr, wir sind laut der Eldar kurz vor dem Fluchttunnel, der in die antiken Abwasserschächte unter dem Gebäude führen sollte. Mittlerweile hat sich das Sirenengeheul gelegt, dafür hören wir von überall her die kurzen, knappen Befehle und das Geräusch, welches dutzende schwere Stiefel hinterlassen.
Nach unserer kurzen Ruhepause nehmen wir den Vormarsch wieder auf. Vor uns liegt eine wirklich schwere Stelle. Vier Gänge treffen aufeinander: Ein wahres Todeskreuz.
Die Eldar decken noch den Südzugang zu dieser Stelle, aber wir wissen, dass sie es nicht lange können. Zwei von ihnen nehmen mittlerweile die Lady zwischen sich. Sie kann kaum noch laufen. Es war einfach zu viel der Anstrengung.
Wir kämpfen gegen Soldaten, die aus den Nord-, West- und Ostgängen strömen. In ihrem Verhalten gleichen sie schon beinahe aufgepeitschten Kultisten der dunklen Götter.
Einer der Eldar, bevor er das Südtor hinter sich verriegelt, schreit Fayak und ihren Helfern etwas zu wie "Geradeaus und dann links, dort ist der Ausgang!" Doch gerade aus, da warten noch mehr Soldaten.
Es wird ein Nahkampf. Wir schlagen, hacken, boltern und kochen uns durch den Feind.
Damian, verletzt und bewegungsunfähig, besteht darauf, unseren Rücken zu sichern, wir lassen ihn zurück, hören sein Bolterfeuer, gemischt von Anrufen an Sanguinius, noch eine ganze Weile.
Auf die rettende Luke hinzu!
Die Soldaten weichen nun teilweise vor uns zurück, teilweise werden sie von ihren eigenen hineinstürmenden Truppen zu Boden getreten, wenn sie (zu Recht) den Nahkampf mit uns scheuen.
Meine Melterpistole wirft Blasen auf dem Handschuh meiner Rüstung, so heiß ist sie.
Dann trifft mich ein Schuss mitten in den Adler.
Die Energiekupplung darunter setzt aus und ich bin linksseitig gelähmt. Ezekiel hält mich fest und stützt mich.
Auch Calidus ist mittlerweile behindert, gestützt durch Azrael, der ebenfalls einen Ausfall seiner Rüstungsmotivatoren beklagt. Es war einfach zu viel Laserfeuer auf zu kurzer Distanz. Unsere Rüstungen waren für den Feldeinsatz, nicht für den Häuserkampf gebaut! Den Eldar in ihren leichten Rüstungen geht es natürlich noch schlechter, was sie aber dennoch nicht von stürmischem Vorgehen abhält.
Endlich kommen wir zu dem Raum, in dem sich die rettende Luke befinden sollte. Wir stürmen hinein. Ich koche, was das Zeug hält. Schon seit Minuten ignoriere ich Ladeanzeige und Hitzewarnungen auf dem Display der geheiligten Waffe.
Kurzzeitig haben wir den Raum gesichert. Calidus und Azrael kommen direkt hinter uns hinein. Ezekiel bringt mich zum Schacht und stößt mich hinein. Dann springt er hinterher.
Nein! Wir müssen doch die Lady… Zuerst fallen wir, dann neigt sich der Tunnel ein wenig. Es entsteht eine Art Rutsche. Meine Rüstung schlägt, wie die von Ezekiel, Funken an das Gemäuer und den Steigeisen.
Im Fallen sehe ich kurz Calidus über dem Loch, er feuert, was das Zeug hält. Die Lichtreflexe der zündenden Bolterladungen erhellen den Tunnel. Dann ist er wieder verschwunden. Die Eldar und die Lady fallen und rutschen nun hinter uns her durch den Tunnel. Sie trägt keine richtige Rüstung! Ein Steigeisen trifft sie am Kopf, sie ist bewusstlos!
Ezekiel und ich treffen hart auf. Es reißt den Schulterpanzer meiner Rüstung auf. Schnell bewegen wir uns beiseite. Einer der Eldar wirft sich vor den leblosen Körper der Lady und bremst so ihren Fall. Alles noch bevor Ezekiel die Gelegenheit hat, auch nur zu versuchen, sie aufzufangen.
Eine heroische letzte Tat in der Existenz des Eldar bewahrt so die Tochter Sanguinius.
Wir blicken uns kurz um. Der Adamantiumsockel des Administratumgebäudes hat scheinbar alte Katakomben durchdrungen. Der zweite Eldar rappelt sich auf und wirft sich Fayak über die Schulter.
Lichter, von den Eldar beim Eindringen zurückgelassen, weisen uns den Weg in Richtung des Ausgangs…