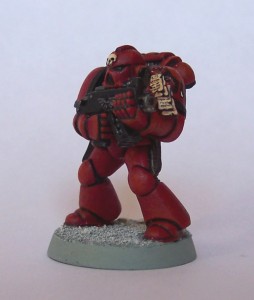 7110815.M41
Meeting with the Tau to reach an agreement for them to keep out of this operation went off well, security was properly established, the site in the snow-covered tundra easy to defend against intruders. After about 37:46 minutes, a detachment of what was later discovered to be halfling snipers was detected and eliminated. Meeting was adjourned to evacuate diplomatic personnel, the Lady Fitheak and that Eldar psyker who always acts as though the Emperor were standing on his toes, both of whom were unfortunately unarmed according to custom.The situation became grave when more troops began to materialise right in the middle of the retreating Eldar party, severely outnumbering us. A detachment of dead warriors covered the two unarmed persons, my brothers' first concern being getting the Lady Fitheak to safety. Two large detachments of troopers blocked our way to the transports, and immediately concentrated their fire on the Eldar's leader of this operation. They downed his jetbike with a plasma gun after repeatedly hitting it with las fire. He was later evacuated to base camp, but is still in serious condition. Whether he can continue the mission or not is doubtful.
At our flank a small unit supported by two war walkers appeared, threatening to divert the units of Avenger warriors and the ghost warriors who were advancing on the attackers in front to clear the way to the transports. Our Eldar insisted on taking on the warwalkers, to which Brother Azrael reluctandly agreed when the warwalkers opened fire, wounding Brother Calidus. While the ghost warriors supported by the severely reduced Avenger detachment engaged one of the attacking units despite heavy losses, our unit challenged the attackers at the flank, detecting the commanding officer and his retinue among them. Shielding the weaponless Eldar with our armour we eliminated the command squad and finally the warwalker, the Primarch be thanked for Brother Bethor's power fist.
Meanwhile the Tau, having brought their diplomats to safety, returned and also engaged the attackers, losing one of their tanks in the action, but supporting our unit when the warwalkers threatened our Eldar since Brother Bethor was at that time the only one of us still in a condition to fight, I am ashamed to admit.
After a short but fierce fight, both Eldar diplomatic personnel could be safely evacuated, and the attackers disengaged.
Losses were great, since such an attack could not have been antcipated, and the diplomats were accompanied merely by an honour guard.
The attackers seemed to be misguided Imperial soldiers, as it cannot be in the Emperor's interest to hinder our mission on Rausina. I venture to put it down to lack of knowledge on the part of their leaders, hoping that they are not touched by darker powers than ignorance.
(Excerpt from Brother Ezekiel's diarium)
ADS
Deutsch:
7110815.M41
Das Treffen mit den Tau, bei dem vereinbart wurde, dass sie sich aus dieser Operation heraushalten, verlief gut. Die Sicherheitsvorkehrungen wurden ordnungsgemäß getroffen und der Standort in der schneebedeckten Tundra war leicht gegen Eindringlinge zu verteidigen. Nach etwa 37:46 Minuten wurde ein Trupp von Scharfschützen der Halblinge entdeckt und ausgeschaltet. Die Sitzung wurde vertagt, um das diplomatische Personal, die Lady Fitheak und den Eldar-Psyker, der immer so tut, als stünde der Imperator auf seinen Zehen, zu evakuieren, die beide leider gemäß den Gepflogenheiten unbewaffnet waren.
Die Situation wurde ernst, als sich weitere Truppen mitten in der sich zurückziehenden Eldar-Gruppe materialisierten und uns zahlenmäßig stark unterlegen waren. Ein Trupp toter Krieger deckte die beiden Unbewaffneten, und die erste Sorge meiner Brüder war es, die Lady Fitheak in Sicherheit zu bringen. Zwei große Trupps versperrten uns den Weg zu den Transportern und konzentrierten ihr Feuer sofort auf den Anführer der Eldar bei dieser Operation. Sie schossen sein Jetbike mit einer Plasmakanone ab, nachdem sie es wiederholt mit Laserfeuer beschossen hatten. Er wurde später ins Basislager evakuiert, befindet sich aber immer noch in einem ernsten Zustand. Es ist fraglich, ob er die Mission fortsetzen kann oder nicht.
An unserer Flanke erschien eine kleine Einheit, die von zwei War Walkern unterstützt wurde und drohte, die Einheiten der Rächerkrieger und der Geisterkrieger, die auf die Angreifer vorrückten, abzulenken, um den Weg zu den Transportern freizumachen. Unsere Eldar bestanden darauf, es mit den Warwalkern aufzunehmen, was Bruder Azrael nur widerwillig akzeptierte, als die Warwalker das Feuer eröffneten und Bruder Calidus verwundeten. Während die Geisterkrieger, die von der stark reduzierten Rächereinheit unterstützt wurden, trotz schwerer Verluste eine der angreifenden Einheiten bekämpften, griff unsere Einheit die Angreifer an der Flanke an und entdeckte den kommandierenden Offizier und sein Gefolge unter ihnen. Wir schirmten die waffenlosen Eldar mit unserer Rüstung ab und eliminierten den Kommandotrupp und schließlich den Warwalker.
In der Zwischenzeit kehrten die Tau, die ihre Diplomaten in Sicherheit gebracht hatten, zurück und griffen die Angreifer ebenfalls an. Dabei verloren sie einen ihrer Panzer, unterstützten aber unsere Einheit, als die Warwalker unsere Eldar bedrohten, denn Bruder Bethor war zu diesem Zeitpunkt der einzige von uns, der noch in der Lage war zu kämpfen, wie ich zu meiner Schande gestehen muss.
Nach einem kurzen, aber heftigen Kampf konnten beide diplomatischen Mitarbeiter der Eldar in Sicherheit gebracht werden und die Angreifer zogen sich zurück.
Die Verluste waren hoch, da ein solcher Angriff nicht hätte abgewehrt werden können und die Diplomaten lediglich von einer Ehrengarde begleitet wurden.
Bei den Angreifern handelte es sich offenbar um fehlgeleitete imperiale Soldaten, denn es kann nicht im Interesse des Imperators sein, unsere Mission auf Rausina zu behindern. Ich wage zu vermuten, dass es sich um einen Mangel an Wissen seitens ihrer Anführer handelt und hoffe, dass sie nicht von dunkleren Mächten als der Unwissenheit berührt werden.
(Auszug aus Bruder Ezekiels Tagebuch)
ADS