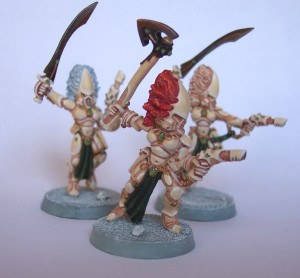 After the Swooping Hawks, I went for my Banshees to add some variety to my army, and *of course* because I like the figures so much. The figures were purchased sometime in the late 90s (got them as a gift, for Christmas), I painted them in early 2006, if I remember correctly. Since I didn't want to paint them all at once, but still wanted to work somewhat rationally, I always painted two at a time, step by step, after the test model, that went quite well.
My Banshees are also kept in muted colors according to the background story of my Craftworld, only the orange accents stand out. The sashes (here rather Schurze) are designed in one of the Craftworld colors, as they are now found on all my aspect warriors.
The blades (powerblades, böööh! what are they called in german?!) I tried to make them look a little bit like flintstone, I found the glass-like structure quite fitting, and besides, the black and orange harmonize well with the rest of the color scheme of the banshees.
So far there are six girls, but on my table there are nine more, mixed from first and second Banshee model editions (I personally like the second one best), including an Exarch with staff weapon. Let's see when it's their turn….
ADS
Deutsch:
Nach den Swooping Hawks habe ich mir meine Banshees vorgenommen, um etwas Abwechslung in meine Armee zu bringen, und *natürlich* weil mir die Figuren so gut gefallen. Die Figuren wurden schon irgendwann in den späten 90ern angeschafft (geschenkt bekommen, zu Weihnachten), angemalt habe ich sie Anfang 2006, wenn ich mich richtig erinnere. Da ich nicht alle auf einmal bemalen wollte, aber dennoch etwas rationell abeiten, habe ich nach dem Testmodell immer arbeitsschrittweise zwei gleichzeitig bemalt, das ging recht gut.
Auch meine Banshees sind der Hintergrundgeschichte meiner Craftworld entsprechend in gedeckten farben gehalten, nur die orangefarbenen Akzente heben sich da ab. Die Schärpen (hier eher Schurze) sind in einer der Craftworldfarben gestaltet, so wie sie sich jetzt an allen meinen Aspektkriegern finden.
Die Klingen (powerblades, böööh! wie heißen denn die auf deutsch?!) habe ich versucht ein wenig wie Feuerstein aussehen zu lassen, das fand ich mit der glasartigen Struktur ganz passend, und außerdem harmonieren das schwarz und orange gut mit dem übrigen farbschema der Banshees.
Bis jetzt sind es sechs Mädels, aber auf meinem Tisch liegen nochmal neun, gemischt aus erster und zweiter Banshee-Modell-Edition (die zweite gefällt mir persönlich am besten), inklusiver einer Exarchin mit Stabwaffe. Mal sehen, wann die dran sind…
ADS