Doro and I went to the ConflictX in Berlin. The venue was the Meilenwerk, a guarded luxury garage for classic cars with workshops and a bar.
We took part in the rather short Apocalypse battle there, but it was cut short after the third turn and was not as big as originally planned. During the event we had pleasant conversations with GW staff, in particular we warmly greeted Ron and his team from the store in Frankfurter Allee. Particularly noteworthy was the friendly GW employee at the entrance. Since our babysitters had both cancelled, we simply brought our two little ones with us.
In the said shop in Frankfurter Allee, they are used to it and take touching care of the future tabletop players. Our older daughter, at the age of six, even painted her own Spacemarine!
Back to ConflictX: As there were not too many participants, the lady at the entrance did not have too much to do. She voluntarily took over the supervision of our two daughters. Nausi and her hit it off right away, and while the staff member naturally couldn't leave her post at the entrance control, Nausi made sure that our little Trudelchen Thea didn't get lost. Unfortunately, the lady's supervisor put a spoke in our wheel.
"We are not responsible, but we would feel guilty if something happened to the children!" In other words, take better care of your children!
Our children are pretty quiet. They are used to not knocking things over, not taking figures off the tables and the like. Moreover, Doro and I took turns during the Apocalypse trains to entertain the kids at the local playground.
The lady at the entrance (you surely know my miserable memory for names) apologised that she couldn't do anything about her supervisor's decision. We understood that. Unfortunately, this tarnished our hitherto flawless impression of GW's child-friendliness for the first time.
Now for the battle: With our Titans on the Empire side, it was quite unbalanced, so I lent the hordes of Chaos six more Leman Russ from my stock. Mario, a GW staff member, supervised us rather than playing along. It's a pity, a more motivated GW staff member would certainly have done wonders for the game.
Apart from that, we did a bit of bits shopping and by 7:30pm we were back home.
All in all, it was an amusing Sunday, albeit with a bit of a shadow.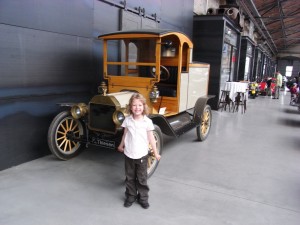 Deutsch:
Doro und ich sind zum ConflictX in Berlin gefahren. Der Veranstaltungsort war das Meilenwerk, eine bewachte Luxusgarage für Oldtimer mit Werkstätten und einem Ausschank.
Wir nahmen dort an der recht kurzen Apocalypse-Schlacht teil, die jedoch nach dem dritten Zug abgebrochen wurde und nicht so groß war wie ursprünglich geplant. Während des Events hatten wir angenehme Gespräche mit GW-Mitarbeitern, insbesondere grüßten wir herzlich Ron und sein Team vom Store in der Frankfurter Allee. Besonders hervorzuheben war die freundliche GW-Mitarbeiterin am Eingang. Da unsere Babysitter beide abgesagt hatten, brachten wir einfach unsere beiden Kleinen mit.
In dem besagten Laden in der Frankfurter Allee sind sie es gewohnt und kümmern sich rührend um die zukünftigen Tabletop-Spieler. Unsere ältere Tochter hat mit ihren sechs Jahren sogar schon ihren eigenen Spacemarine bemalt!
Zurück zum ConflictX: Da es nicht allzu viele Teilnehmer gab, hatte die Dame am Eingang nicht allzu viel zu tun. Freiwillig übernahm sie die Aufsicht über unsere beiden Töchter. Nausi und sie verstanden sich auf Anhieb, und während die Mitarbeiterin natürlich nicht ihren Posten an der Eingangskontrolle verlassen konnte, passte Nausi darauf auf, dass unser kleines Trudelchen Thea nicht verloren ging. Leider machte uns der Vorgesetzte der Dame einen Strich durch die Rechnung.
"Wir sind zwar nicht verantwortlich, aber wir würden uns schuldig fühlen, wenn den Kindern etwas passieren würde!" Mit anderen Worten: Passen Sie besser auf Ihre Kinder auf!
Unsere Kinder sind ziemlich ruhig. Sie sind es gewohnt, nichts umzuwerfen, keine Figuren von den Tischen zu nehmen und Ähnliches. Darüber hinaus wechselten Doro und ich uns während der Apocalypse-Züge ab, um die Kinder auf dem örtlichen Spielplatz zu unterhalten.
Die Dame am Eingang (Sie kennen sicherlich mein miserables Gedächtnis für Namen) entschuldigte sich, dass sie nichts gegen die Entscheidung ihres Vorgesetzten unternehmen konnte. Wir verstanden das. Leider wurde dadurch unser bisher makelloser Eindruck von der Kinderfreundlichkeit bei GW zum ersten Mal getrübt.
Nun zur Schlacht: Mit unseren Titanen auf der Seite des Imperiums war es recht unausgeglichen, daher lieh ich den Horden des Chaos noch sechs Leman Russ aus meinem Bestand. Mario, ein GW-Mitarbeiter, beaufsichtigte uns eher, als dass er mitspielte. Schade, ein motivierterer GW-Mitarbeiter hätte sicher Wunder für das Spiel bewirkt.
Abgesehen davon waren wir noch ein wenig beim Bits-Shoppen und gegen 19:30 Uhr waren wir dann auch wieder zu Hause.
Alles in allem war es ein amüsanter Sonntag, wenn auch mit ein wenig Schatten.