You play Rogue Trader for years, 2nd Edition for a shorter time and 3rd for quite a while. I just got used to 4th after we started playing it in January (after a 2 year break). Now comes the 5th, and before that my wife drags me to a tournament :-).
In the meantime, she is much more of a hardcore 40kler than I am and really wanted to go there. We also recruited our fellow competitor Hanni right away. Lutz, who plays with us from time to time, came along but preferred role-playing to joining the "Early Nerds" team.
Due to other stress, I was already extremely unenthusiastic at departure. We hadn't had anything prepared all week, so I was the only one blessed with a completely finished army:
Doro's Nightlords.
She herself entered with her Eldar and Hanni with his Tau.
My sweetheart and I rented a holiday flat and were in HH by Friday evening. Due to various events, the Nightlords were the only ready army, Doro and Hanni were still painting the last troops on Saturday morning.
Although we left really early we were quite late, so we rushed from the entrance of the new Nordcon location into the first game of the tournament. In my eyes I was lucky that I didn't get a "real" opponent but the knight. Henning from the organisation made sure that everyone had an opponent in the first round.
Game 1: The "TicTacToe" scenario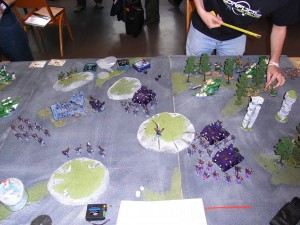 Battle number 1
which I then played with the Nightlords against his Eldar was quite exciting. At the end of the battle, it was simply evaluated which Parei held more "lines" lengthwise, crosswise and crosswise in their possession. To do this, one of one's own pieces simply had to be in 3 ninths of the playing field lying in a straight line.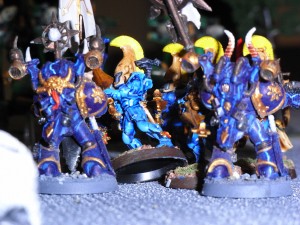 Nighttlords against Eldar in close combat
A line from right-up at the opponent, to left-down at me came about by me defeating and routing his Strikingscorpions in melee with my footed Nightlords, without much effort or many losses on my part. Unfortunately I didn't manage to get the teleported ones in line with other pieces, then I would have won 2 to 1. so it was a draw. Thanks to Henning for allaying my fears that the tournament would not be fun.
Game 2: Against Marcel and his IA
HQ of the Imperial Troops
My second game was very amusing, even if it ended in a small defeat. My opponent and I got on so well that we chatted away. After all, my main army is IA. True to the "they are few, we are many" approach, I ruled the battlefield and limited IA to their deployment zone, but my losses on points were much greater.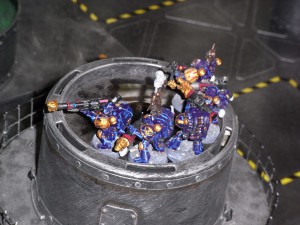 Nightlord Havocs rule the highest point in the game
The scenario involved a night battle with two large searchlights, one of which each party was allowed to move. On 12 inch cones of light, the troops were visible, and without the night rules to shoot at. Superior use of this spotlight in conjunction with the Havocs in their turret meant that no unit was really safe.
Game 3: Against the Imperial Fists (sorry I forgot the name, although it was really nice)
Against the Imperial Fists
The third game was about holding the centre of the board. My Havocs, by now I had identified them as the strongest part of my army :-), were once again placed centrally in good view in cover. My army itself was ready for the fight against the opponents, who were heavily equipped with vehicles. Dreadnought, Predator, Land Speeder, Razorback and Landraider. Everything was available. My boys only had their Chaos Dreadnought.
Against the general of the Imperial Fists
No matter, be it due to the carelessness of my opponent, I was able to crack all the thick vehicles. In the last round, the Landraider and Predator were also in core range of my Chaos Marines. My Aspiring Champions were cleverly armed with Combimelters, so they surprised the Fists' vehicles in the centre.
A narrow victory for me!
Game 4: Against Dirk's Khorne Beserker
Fighting Chaos, what a chance for glory! The objective was to capture three golden statuettes. These had to be brought to the opponent's side of the field. My opponent mimed the Khorneberserker very well (no, only in the Siel, he was otherwise a very nice contemporary), and his army was excellently painted.
Against the Berzerkers
It was heading for a draw for a very long time, with my Havoc again doing a lot of harm as I parked them on the centrally located pyramid in this steamy jungle. While my boys had first captured the left and centre statuettes situated from me, the wild Berzerkers managed to take all the statuettes from me. Nevertheless, it was only in the last round that the followers of Khorne managed to carry a single statuette (the hotly contested middle one) into the end zone.
into the end zone and score. This all happened with one Rhino surviving.
Khorne's Berzerker Rhinos!
Funniest scene in the game was how my Dreadnaught went "Firecrazy" right at the beginning and my Marines dashed away not to be closer to him than the enemy. The result was a very very raked Khornerhino, but it survived the FOUR side-impact autocannon hits without damage!
Game 5: Against the Orkbozze of Jörn
The last game, and I think we were all pretty worn out by then. The preview of the 5th edition was then also my worst loss, not a close one but already a defeat of the level above. Jörn's extremely heavily armed and vehicle-equipped Orknobze were already slightly bearded. Their general, however, was a real gentleman. Sthets rule-fit, he interpreted them in questions rather to his disadvantage and blew me off the field just like that. Once again, it was a matter of occupying victory locations. With the new rules, however, only standard units score points. An advantage for me, since I had some squads with me. Unfortunately, the turn length was also variable. The orcs had only one remaining standard unit to score at first, but they swept my Nightlords away from the middle victory location and occupied the right one. This could have been a draw. Unfortunately, however, the game did not end on turn 5 but we played 2 more turns. So he was able to push me away from the inken base and occupy another location. so he had two and I had none. Too bad. Still, a successful game.
The result: 20th place, not bad for the first time.
http://www.tabletopturniere.de/t3_tournament_results.php?tid=3063
Analysis: So this is how Chaos Marines play:
Melee I say. Get up close to the enemy, get melter and then get into the melee! No matter what it is. Grenades out and on it. I was positively surprised by the efficiency of the Rhinos. Smoke launchers and havoc launchers turn the vehicles into amazingly powerful light transporters. And because they are Rhinos, they are left alive for a really long time. Many enemies prefer to concentrate on the men emerging from the Rhinos.
I didn't like my character models at all. I will probably leave the chaos wizard at home next time and rather pack more troops. Or maybe a second Dreadnaught? Despite the rules about madness (which I also only learned at the tournament 🙁 ), a chaos dreadnaught is quite suitable for getting rid of heavy enemies at a distance.
So that's it for now, maybe more later 🙂
All in all, a great tournament!
Deutsch:
Das spielt man jahrelang Rogue Trader, eine kuerzere Zeit 2nd Edition und eine ganze Weile 3rd. An die 4th habe ich mich gerade so gewöhnt, nachdem wir im Januar (nach 2 Jahren Pause) damit angefangen haben. Jetzt kommt die 5th, und vorher schleppt mich meine Frau noch auf ein Turnier :-).
Mittlerweile ist Sie ja viel mehr Hardcore 40kler als ich und wollte da auch unbedingt hin. Unseren Mitstreiter Hanni haben wir dann auch gleich noch angeworben. Lutz, der ab und an mitspielt kam zwar mit aber wollte lieber Rollenspielen als dem "Early Nerds" Team beitreten.
Bedingt durch anderen Stress war ich schon zur Abfahrt extrem unlustig. Die ganze Woche über hatten wir nichts mehr vorbereitet bekommen, und so war ich als einziger mit einer komplett fertigen Armee gesegnet:
Doros Nightlords.
Sie selbst trat mit ihren Eldar and und Hanni mit seinen Tau.
Meine Liebste und ich, wir mieteten uns in einer Ferienwohnung ein und waren dann schon Freitag abend in HH. Durch verschiedene Ereignisse waren die Nightlords die einzige fertige Armee, Doro und Hanni malten noch Samstag frueh die letzten Truppen an.
Obwohl wir richtig früh loskamen waren wir dann recht spät dran, so hetzten wir vom Eingang der neuen Nordcon Location mitten ins erste Spiel des Turniers. In meinem Augen hatte ich Glück, dass ich dann gar keinen "echten" Gegner zugelost bekommen hatte sondern den Springer. Henning von der Orga der dafür sorgte, dass in der ersten Runde alle einen Gegner hatten.
Spiel 1: Das Szenario "TicTacToe"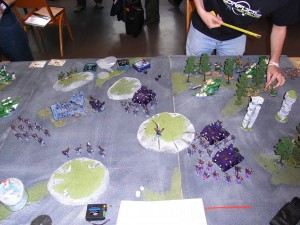 was ich dann mit den Nightlords gegen seine Eldar bestritt war recht spannend. Am Ende der Schlacht wurde schlicht ausgewertet welche Parei mehr "Linien" längs, kreuz und quer in ihrem Besitz hielt. Dazu musste einfach nur eine eigene Figur in 3 auf gerader Linie liegenden Spielfelneunteln sein.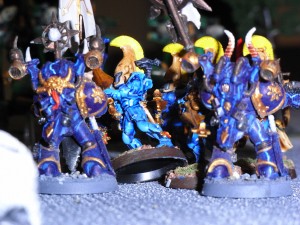 Eine Linie von Rechts-oben beim Gegner, nach Links-unten zu mir kam dadurch zustande, daß ich mit meinen fussläufigen Nightlords seine Strikingscorpions im Nahkampfbesiegte und routete, ohne großen Aufwand oder viele Verluste meinerseits. Leider schaffte ich es nicht mehr die geteleporteten auch noch in eine Reihe mit anderen Figuren zu bringen, dann hätte ich 2 zu 1 gewonnen. so war es ein Unentschieden. Danke an Henning der mir alle Befürchtungen nahm das Turnier könnte keinen Spaß machen.
Spiel 2: Gegen Marcel und seine IA
Mein zweites Spiel war sehr amüsant, auch wenn es in einer kleinen Niederlage endete. Mein Gegenüber und ich verstanden sich so gut, daß wir uns verquatschten. Schließlich ist meine Hauptarmee ja auch die IA. Ganz nach dem "They are few, we are many" Ansatz regierte ich zwar das Schlachtfeld und begrenzte die IA auf ihre Aufstellungszone, jedoch waren meine Verluste nach Punkten viel größer.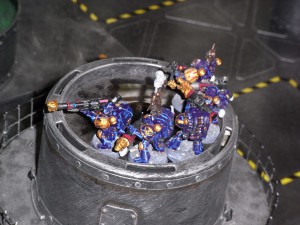 Das Szenario beinhaltete ein Nachtgefecht mit zwei grossen Scheinwerfern, von dem jede Partei einen bewegen durfte. Auf 12 Zoll Lichtkegel waren die Truppen zu sehen, und ohne die nachtregeln zu beschiessen. Durch überlegenen Einsatz dieses Scheinwerfer im Zusammenspiel mit den Havocs in ihrem Turm war keine Einheit wirklich sicher.
Spiel 3: Gegen die Imperial Fists (es tut mir leid ich habe den Namen vergessen, obwohl er wirklich nett war)
Im dritten Spiel ging es um das Halten der Spielfeldmitte. Meine Havocs, mittlerweile hatte ich sie als stärksten Teil meiner Armee identifiziert :-), wurden einmal mehr zentral in guter Sicht in Deckung plaziert. Meine Armee selbst war für den Kampf gegen die, stark mit Fahrzeugen ausgestatten Gegner. Dreadnought, Predator, Land Speeder, Razorback und Landraider. Alles war vorhanden. Meine Jungs hatten ja nur ihren Chaos Dreadnought.
Egal, sei es der Unvorsichtigkeit meines Gegners geschuldet, alle dicken Fahrzeuge konnte ich knacken. In der letzten Runde dann auch noch Landraider und Predator in Kernschussreichweite meiner Chaos Marines. Denn klugerweise waren meine Aspiring Champions mit Combimeltern bewaffnet und so überraschten sie im Zentrum die Fahrzeuge der Fists.
Ein knapper Sieg für mich!
Spiel 4: Gegen Dirks Khorne Beserker
Gegen das Chaos kämpfen, welche Chance auf Ruhm! Es ging um die Eroberung dreier goldner Statuetten. Diese mussten auf die gegnerische Spielfeldseite gebracht werden. Mein Gegenspieler mimte den Khorneberserker sehr gut (nein nur im Siel, er war sonst ein sehr netter Zeitgenosse), und seine Armee war hervorragend bemalt.
Es lief sehr lang auf ein unentschieden hin, wobei auch meine Havoc wieder viel Leid anrichteten, da ich sie auf der zentralgelegenen Pyramide in diesem dampfenden Urwald abstellen konnte. Während meine Jungs zuerst die von mir aus gelegene linke und mittlere Statuette erobert hatten, gelang es den wilden Berzerkern mir alle Statuetten abzunehmen. Dennoch gelang es den Anhängern Khornes erst in der letzten Runde eine einzelne (die heiss umkämpfte Mittlere)
in die Endzone zu tragen und so zu punkten. Das alles passierte mit einem überlebenden Rhino.
Witzigste Szene im Spiel war wie mein Dreadnaught gleich am Anfang "Firecrazy ging " und meine Marines davonstoben um nicht näher an ihm zu sein als der Feind. Das Ergebnis war ein sehr sehr beharktes Khornerhino, aber es überlebte die seitlich einschlagenden VIER Autokanonentreffer ohne Schaden!
Spiel 5: Gegen die Orkbozze von Jörn
Das letzte Spiel, und ich glaube wir alle waren schon recht abgearbeitet. Die Preview auf die 5te Edition war dann auch mein schlimmster Verlust, keine knappe sondern schon eine Niederlage der Stufe darüber. Die extrem schwer bewaffneten und mit Fahrzeugen ausgestatteten Orknobze von Jörn waren schon leicht bärtig. Ihr General dafür ein echter Gentleman. Sthets regelfit, legte er sie in Fragen eher zu seinen ungunsten aus und pustet mich einfach so vom Feld. Es ging erneut darum Sieglokationen zu besetzen. Mit den neuen Regeln punkten aber nur Standardeinheiten. Ein Vorteil für mich, da ich ja einige Squads dabei hatte. Leider war auch die Zuglänge variabel. Die Orks hatten zuerst nur eine übrige Standardeinheit zum Punkten aber sie fegten meine Nightlords von der mittleren Sieglocation weg und besetzten die Rechte. Das hätte ein Unentschieden werden können. Leider endete das Spiel jedoch nicht in Runde 5 sondern wir spielten 2 Runden mehr. So konnte er mich auch noch von der inken Basis wegschieben und noch eine Location besetzen. so hatte er dann zwei und ich keine. Schade. Dennoch ein gelungenes Spiel.
Das Ergebnis: Platz 20, nicht schlecht für erste Mal.
http://www.tabletopturniere.de/t3_tournament_results.php?tid=3063
Analyse: So spielen sich also Chaos Marines:
Nahkampf sage ich. Ran an den Feind, Meltern und dann in den Nahkampf! Egal was es ist. Granaten raus und drauf. Positiv überrascht war ich von der Effizienz der Rhinos. Nebelwerfer und Havoclauncher machen aus den Fahrzeugen erstaunlich schlagkräftige leichte Transporter. un weil es Rhinos sind werden sie auch echt lange am Leben gelassen. Viele Feinde konzentrieren sich dann lieber auf die Mannen die den Rhinos entsteigen.
Gar nicht gefallen haben mir hingegen meine Charaktermodelle. Den Chaoshexer werde ich wohl das nächste mal daheim lassen und lieber mehr Truppen einpacken. Oder vielleicht dann einen zweiten Dreadnaught? Trotz der Regeln zum Thema Wahnsinn (die ich auch erst auf dem Turnier gelert habe 🙁 ), ist so ein Chaosdreadnought ganz gut geeignet um auf die Ferne, schwere Feinde loszuwerden.
So das wars erstmal, mehr vielleicht später 🙂
Alles in allem ein super Turnier!