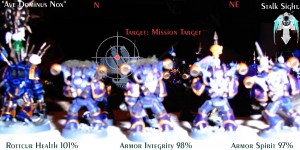 The traitors had dug up a powerful tank in the ice desert and wanted to bring it to Obrionte to their machine visionaries. The cogitator on board the vehicle was supposed to contain information on where on the planet the STC factory for these vehicles was located. What a prize for the dark lord, in the name of our blessed warlord!
Unfortunately, we were not the only ones with an interest in the vehicle. Just as the corpse emperor's puppet soldiers were getting two of their chimeras ready for towing, we were among them. Terror and fear are the most powerful weapons! The filthy traitors fell, even if some escaped in their chimeras. For suddenly we were pre-occupied. Vile xenos had appeared. Smelly Eldar accompanied by those new crumpled blue males. And it seemed they either wanted the same thing as us, or to help the traitors. Anyway, may Horus forgive us and the Dark Lord punish us, we were UNPREPARED. I don't think any of the others were left. Even our terminator captain and our sorcerer killed them. We will need reinforcements if we are to defeat the traitors on this filthy planet.
Perhaps we should first observe from a distance what the xenos are doing to the humans?
The artefact will not be lost.
I'm back at the outpost awaiting your verdict,
O dark master!
Deutsch:
******************
kurzer Warpspruch des Krieger Ivan Rottcur, Unterstützungssquad 3, 4.Kompanie, NightLords
******************
Egal was wir tun oder wahrer Gottkaiser. Wir versagen. Oh Herr der Dunkelheit, was müssen wir ändern um auf diesem dreckigen Schneeball dein Banner hissen zu können. Da hatten wir schon von einem Informanten erfahren was die Menschen vorhatten: Sie wollten Technologie aus alter Zeit nutzbar machen, einen mächtigen Panzer hatten die Verräter in der Eiswüste ausgegraben und wollten ihn nach Obrionte zu ihren Maschinensehern bringen. Der Cogitator an Bord des Fahrzeugs sollte Informationen enthalten wo auf dem Planteten die STC Fabrik für diese Fahrzeuge lag. Was für eine Beute für den dunklen Herren, im Namen unseres seligen Kriegsherren!
Leider waren wir nicht die einzigen mit einem Interesse an dem Fahrzeug. Gerade als die Marionettensoldaten des Leichenkaisers zwei ihrer Chimären zum abschleppen bereit machen wollten waren wir unter ihnen. Terror und Angst sind mächtigste Waffen! Die dreckigen Verräter fielen, auch wenn einzelne in ihren Chimären entkamen. Denn plötzlich waren wir präokkupiert. Widerliche Xenos waren erschienen. Stinkende Eldar begleitet von diesen neuen knautschigen blauen Männchen. Und es schien als wollten sie entweder dasselbe wie wir, oder den Verrätern helfen. Jedenfalls, möge uns Horus verzeihen und der dunkle Lord strafen, waren wir UNVORBEREITET. Ich denke von den Anderen ist keiner übriggeblieben. Selbst unser Terminatorcapitän und unserer Hexer haben sie getötet. Wir werden Verstärkung brauchen, wenn wir auf diesem Dreckplaneten die Verräter besiegen wollen.
Vielleicht sollten wir doch erst aus der Ferne beobachten was die Xenos mit den Menschen anstellen?
Das Artefakt wird nicht verloren gehen.
Ich bin zurück im Vorposten und erwarte euer Urteil,
oh dunkler Meister!